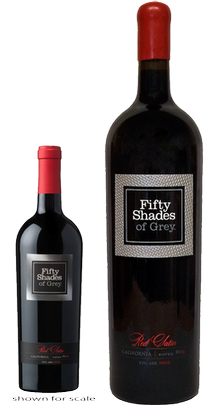 First Edition: The Fifty Shades of Grey Red Satin
Hand-Etched 3 Liter Bottle
What could possibly be better than a bottle of
Fifty Shades of Grey Red Satin
? Fifty Shades of Grey Red Satin in a Limited Edition 3 Liter Bottle! You can own one today but there's only 250 bottles available so if you want one you better hurry. Orders are only being accepted until September 30.
"SOMETIMES BIGGER IS BETTER These wine bottles are very special, instead of having a label glued on the glass like a normal wine bottle, the label design is engraved into the glass itself and then each design element is hand-painted by artisans in Napa Valley, CA. This painstaking process produces amazingly rich and permanent detail. Each bottle in this exclusive numbered series is then individually filled by our winemakers and hand-dipped in a red hot wax seal. Equal in volume to four standard wine bottles, this true collector's item is a feast for the senses: opulent, textured, and decadent." - Fifty Shades Wine
Order a bottle for yourself and for a friend. Christmas is a few shorts months away. This would make the perfect gift for a special Fifty Shades fan in your life.
Click here to order:
Fifty Shades of Grey Red Satin Hand-Etched 3 Liter Bottle