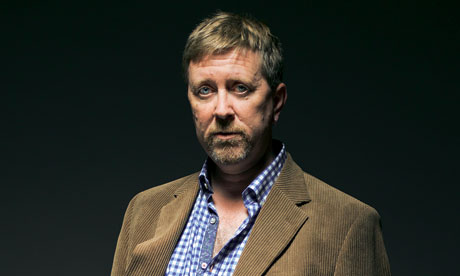 Do they have a dungeon? Or a Red Room of Pain? Mr EL James reveals what it's like to live with a publishing phenomenon
If on entering your local bookshop you can find your way past the teetering stacks of EL James' Fifty Shades trilogy, you might come across a slim new crime novel, Crusher. That one's mine. Perceptive reviewers have noted that the hero's father, Maguire, is an embittered Irish hack consumed with envy of his peers. That must be you, they insist. What modern novelist doesn't envy EL James, the 40-something TV executive and mother of two who has outsold Dan Brown and Stieg Larsson, turbo-boosted the turnover of UK bookshops, and left men the world over begging for less sex and more sleep? But my book is a gritty urban murder mystery; Fifty Shades is an erotic romantic fantasy, and I couldn't have written it in a million years. I'm the least romantic fecker that ever lived – ask my wife Erika, aka EL James. Our first Christmas together I bought her a tin opener, and my earliest experience of kinky sex was her trying to shove it up my arse.
Erika discovered the
fanfiction.net
forum and started submitting stories under the user name Snowqueens Icedragon. When she came up with the saga that was to become Fifty Shades Of Grey, she started to gather a fanatical following for her steamy sex scenes and cliffhanger endings. She'd write a new chapter every week or so, and I would proof-read it, checking her spelling, adding and subtracting commas, cutting back on those bloody ellipses… and occasionally suggesting a tweak if I thought the meaning was unclear. We'd sworn we'd never work together in TV – as a producer she would have fired me that day I was directing The Bill and ran over by 30 minutes – but one evening a week we'd sit down together at her laptop and go through her latest instalment, and somehow we managed that for 18 months without killing each other. We did fall out once; I stomped off without finishing the chapter, and she published it anyway, and if any commas were in the wrong place, no one noticed.
CLICK HERE TO READ MORE>>
Source